Smart home is used in residential buildings, using integrated wiring technology, network communication technology, security technology, automatic control technology, audio and video technology to integrate home life related facilities, and build efficient management system for residential facilities and family schedules. Improve home safety, convenience, comfort, and artistry, and achieve an environmentally friendly and energy-saving living environment.
Smart homes bring convenience to life from intelligent lighting control, intelligent electrical control, intelligent background music, intelligent video sharing, home theater system, system integration control, etc., but excessive intelligence is more cumbersome for life. The use of the elderly and children is a truly humanized system design. Creating a customized technology system for the residents is exactly what Li Jinfu () is pursuing. Lee Kam House spends huge sums of money to build a smart home system that matches hardware facilities and only opens up smart home life for the home.
Convenient living requires only one master control center
Lijin House sets up indoor hosts, from door opening to security, from parking to property, to meet the multi-functional needs of the owners.
The door of the household adopts the electronic password lock design, and the indoor host can be directly opened, which is convenient and practical. The indoor host is connected to the door-to-door machine and the door-to-door machine for video intercom and door opening functions to facilitate life. In the aspect of home security, emergency buttons can be set in the bathroom and living room. In case of emergency, you can call in time. The kitchen can be installed with a visual panel. After seeing the guests, you can also control the door opening. If there is a gas leak or other accident, the infrared alarm function can also be activated as soon as possible. Notification of danger. In addition, the records of strange visitors can save high-definition images to confirm the need.
The Lijinfu indoor host is linked with the parking management system. When there is a vehicle coming in and out, the information prompt will be displayed on the terminal screen immediately, which is sensitive and efficient. The indoor host can make a call with the guard room and the management center. Whether it is parking management or dangerous alarm, the property can be reported, and the property announcement can also inform the owner.
Home entertainment can also be enjoyed in the kitchen
Lee Kam House has an intelligent control panel in the kitchen, which not only has the functions of visual intercom and control to open the door, but also can play the owner's favorite music and video on the kitchen screen when the owner cooks, or rotate the owner's favorite album.
While cooking with heart, you can enjoy the fun of family entertainment, and make a meal full of loving dinner with joy. The harmony and happiness of the family comes from the true feelings, but also from the intimate design of Lijin House.
In addition to the intelligent control panel of the indoor host and the kitchen, Li Jinfu also matches the hardware facilities in terms of visual doorbells, bathroom phones, emergency buttons, gas sensors, and one-button switches. Living situation.
From the convenient transmission of information to the enjoyment of family entertainment, Lijin House simplifies life with technology and brings rich and colorful life to the owners. Now 130-138m2 is a grand three-bedroom mansion, and many life is opened.
Commercial Lighting Led Driver
With Commercial lighting tend to be led lighting mode more and more, Led Lighting Solutions became the most verriding concern issue at the lighting area. We have skilled engineers to answer all your questions and enquiries and provide all-round solutions basis on your project(s) and provide technical supporting. Energy saving and environmental protection are always Fahold's aim, Specializing in LED lighting drivers design, Products apply to street light, industrial and mini light, linear light, tri-proof light, flood light, panel light and so on.
Parameter:
Input voltage: 100-277vac / 100-240vac / 100-130vac / 180-240vac / 100-347V
output voltage: 25-40vdc / 27-42vdc / 35-45vdc / 50-70vdc / 12Vdc / 24vdc
current: 100mA-8000mA.
Power factor: >0.95
Dimming: 0-10V / PWM / RX / DALI/Traic dimmable
>=50000hours, 3-5 years warranty.
certificate: UL CE FCC TUV SAA ect.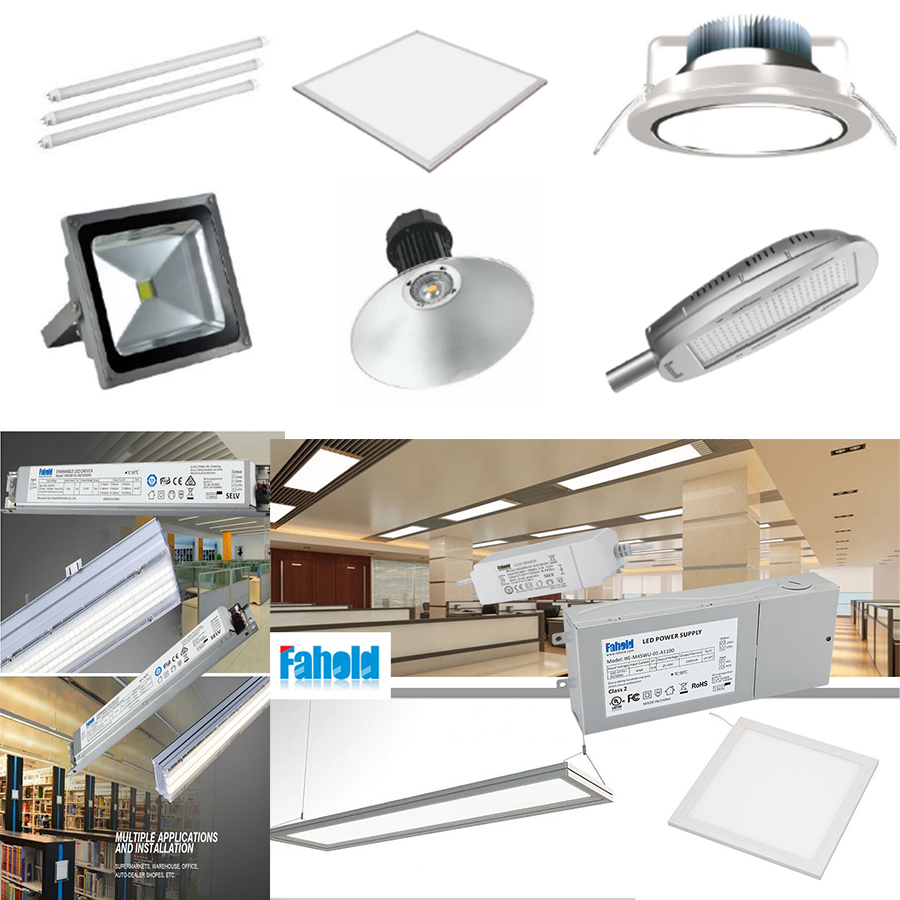 FAQ:
Question 1:Are you a factory or a trading company?
Answer: We are a factory.
Question 2: Payment term?
Answer: 30% TT deposit + 70% TT before shipment,50% TT deposit + 50% LC balance, Flexible payment
can be negotiated.
Question 3: What's the main business of Fahold?
Answer: Fahold focused on LED controllers and dimmers from 2010. We have 28 engineers who dedicated themselves to researching and developing LED controlling and dimming system.
Question 4: What Fahold will do if we have problems after receiving your products?
Answer: Our products have been strictly inspected before shipping. Once you receive the products you are not satisfied, please feel free to contact us in time, we will do our best to solve any of your problems with our good after-sale service.


Commercial Lighting Led Driver
Commercial Lighting Led Driver,Constant Led Driver Circuit,Led Lighting Solutions ,Led Driver Power
ShenZhen Fahold Electronic Limited , https://www.fahold.com