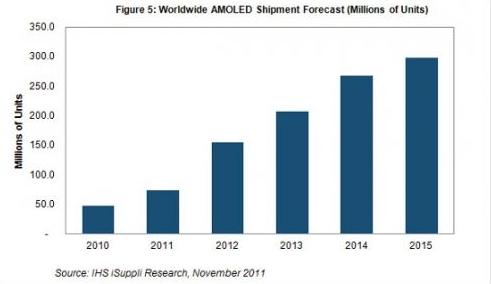 According to the OLED market research report of IHS iSuppli Corporation, China has set off an upsurge of construction and investment and expects to become an important player in the AMOLED display market. As such displays are increasingly used in mobile phones and smart phones, the field will continue to expand in the coming years.
Global AMOLED shipments in 2011 are expected to reach 73.7 million, a 55% increase from last year's 47.4 million. The growth momentum will be even stronger next year and is expected to increase by 110%. It will then grow at a double-digit rate until 2015, as shown in Figure 5. By 2015, AMOLED shipments will reach about 297.3 million, which is more than six times that of 2010.
China has begun to attach importance to AMOLED, plans to become its main supplier, and gain greater influence in the overall mobile display industry. With huge manufacturing capacity and output, and capital investment support from central and local governments, China is likely to become an important player in the field of AMOLED.
AMOLED and LCD
AMOLED belongs to OLED technology, and OLED and LCD are the two main mobile display technologies and they compete with each other.
Compared with LCD, AMOLED has higher contrast, wider viewing angle and faster response speed, which can provide users with a better visual experience. In many cases, AMOLED displays have lower power consumption and are more suitable for portable electronic products.
LCD technology currently accounts for about 95% of the mobile display market, while AMOLED only accounts for 4%. But by 2015, the share of LCD technology will drop to 88%, while AMOLED will rise to 10%.
AMOLED is currently used in handsets from manufacturers such as Samsung, Nokia, HTC and Motorola, but it is basically limited to high-end smartphones. The technology's main competitor is LTPS LCD and Plane Switching (IPS). Apple's iPhone uses IPS. IPS is an advanced LCD.
China's factors and competitors' eyes are focused on this technology. Chinese companies have invested large sums of money to build factories to produce AMOLED panels and to conduct research and development on the technology.
The most invested is Beijing's BOE with an investment of US$3.4 billion, but two factories of Shaanxi Provincial Group Corporation and Shanghai Tianma Microelectronics also have large capital investment.
The above two plants of Tianma and Rainbow Electronics are expected to start mass production next year, and the third plant of Rainbow is expected to start production in 2014. IHS iSuppli's data shows that another Chinese company, Visionix, may have a factory scheduled to start production in 2013.
However, there are many factors that may delay or interfere with China's factory investment and production planning. These factors include poor economic conditions, uncertainties in whether AMOLED can achieve cost-effective production, and the technical quality of the displays produced by the market in China. There is doubt.
China's entry into the AMOLED industry may put pressure on other vendors currently in the market, including South Korea's Samsung Mobile Display and LG Display, as well as Taiwanese manufacturers such as AU Optronics, Saab Technology and Chi Mei Optoelectronics.
Chinese companies will face many challenges. In particular, domestic manufacturers will find it difficult to surpass South Korea's Samsung. Currently Samsung's market share is as high as 92%, which is almost insurmountable. In addition, compared with the traditional LCD, AMOLED crystallization process yield is very low, making it difficult for AMOLED factory to meet market demand and price expectations. The evaporative process of OLED is an expensive link in the production process of AMOLED, and it is difficult for suppliers to avoid it.
Finally, if manufacturers want to engage in the AMOLED industry, they must be prepared to spend a lot of time developing and adjusting processes to improve manufacturing yields and cost-effectiveness. The length of time required may mean that you will not be able to receive any investment.
How China resolves these issues will determine whether it can be competitive and achieve profitability in the AMOLED industry.
Vinita Jakhanwal is Director of Small and Medium Displays at IHS. Michael Grey is a small and medium-sized display researcher at IHS.
Outdoor Ropes,Outdoor Climbing Rope,Outdoor Steel Rope,Outdoor Wire Rope
Outdoor Rope Winch Rope Co., Ltd. , http://www.nsoutdoorrope.com