Tianlong Optoelectronics released the 2012 annual report. The company and its subsidiaries are involved in the business of single crystal furnaces, polycrystalline furnaces, graphite thermal fields, quartz crucibles and other photovoltaic consumables. In 2012, the company realized operating income of 176 million yuan, a year-on-year decrease of 79.09%, operating profit of -56,109,400 yuan, a year-on-year decrease of 646.59%, and a net profit attributable to the parent company of -51,132,200 yuan, a year-on-year decrease of 921.27%.
Among them, the above-mentioned losses are mainly in two aspects. One aspect is the operational loss, and the more important is that the company combines the current actual situation and has a large accounting treatment for accounts receivable, inventory, goodwill and intangible assets. For the impairment of the amount, the company has drawn a total of 341,072,300 yuan for the impairment of the assets, including: bad debt provision for accounts receivable (including other receivables) of 188,380,500 yuan, and inventory depreciation reserve of 47,747,500 yuan. The provision for impairment of fixed assets was RMB26,766,000, the provision for impairment of intangible assets was RMB25,708,300, and the impairment of goodwill was RMB53,371,900.
Judging from the various businesses of the company, during the reporting period, the demand for major PV markets in the country was weak, the prices of silicon wafers and batteries fell sharply, and the intention of downstream enterprises to expand their foreign investment and production was seriously reduced, resulting in a sharp drop in operating equipment orders. The actual equipment orders are less, and the equipment business's receivables and inventory impairments are large. The silicon wafer business of the polycrystalline experimental demonstration plant has formed a large loss due to the continuous decline in the price of silicon materials. Shanghai James and Tianlong Light Source, the holding subsidiaries of the photovoltaic consumables business, are also at a loss. Changzhou Tianlong Light Source, which is engaged in mechanical processing such as furnace processing, is relatively less affected by the photovoltaic industry.
During the reporting period, the company's research and development work has made some progress. The MOCVD equipment of the holding subsidiary Jiangsu Zhongyu achieved its first sales in 2012 and has been delivered to customers, and the progress is in line with expectations. The resin diamond line project is undergoing the stage of developing downstream customers, and has been continuously exploring customer manufacturers for trial use.

With full capacity of 1810mAh,this Iphone 6 Battery perfectly matches the iphone 6 mobile,it's particular chip and battery cell technology makes this IPhone Battery higher quality than our competitors,stable performance and unique functional board date input lasting the battery life span with over 500 cycle times.We have strict test process from material,half end to end products,more than 5 times are inspected thorough of many aspects such as technical date,battery cell,appearance,function,capacity and etc.We have CE,RoHS and FCC certificates to make sure our mobile phone batteriesall are approved by international standard.A good reputation has been awarded from our worldwide customers,await for your cooperation!
As a professional manufacturer over 7 years experience, Hequanqingnuo technology owns the brand of HQQNUO involved in different kinds of Cell Phone Battery such as Iphone Battery , Huawei Battery , Samsung Battery and other Cell Phone Accessories, such as Iphone Battery Case, Qi Car Charger ,Wireless Phone Charger etc.
OEM/ODM and more forms of customization are supported by us.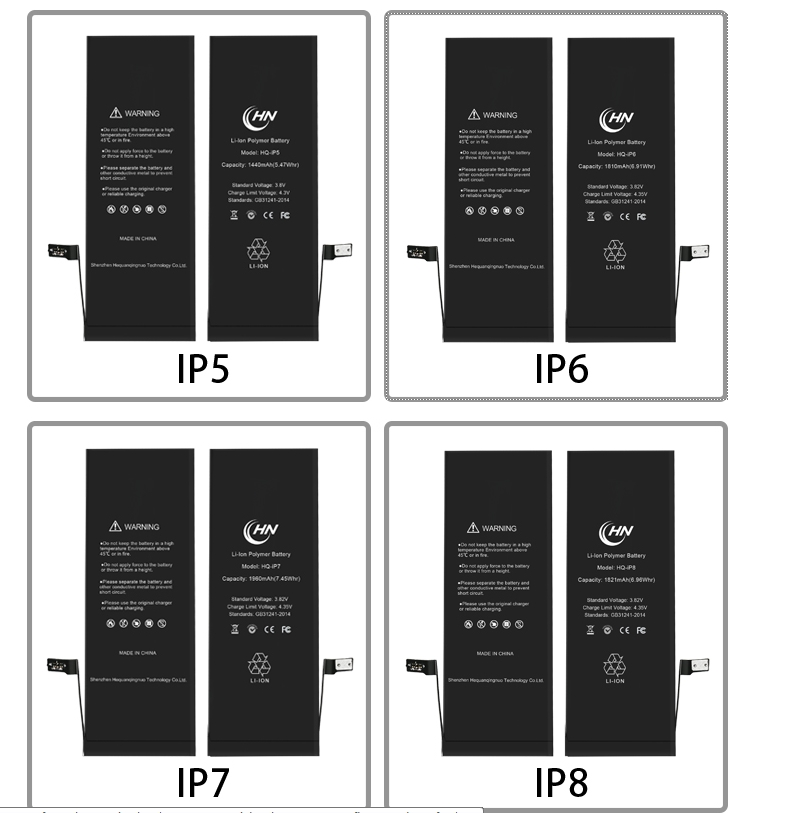 IPhone 6 Battery
Iphone 6 Battery,Apple 6 Battery,Iphone 6 External Battery,Apple Iphone 6 Battery
Shenzhen Hequanqingnuo Electronic Technology Co., Ltd. , https://www.hqqnbattery.com